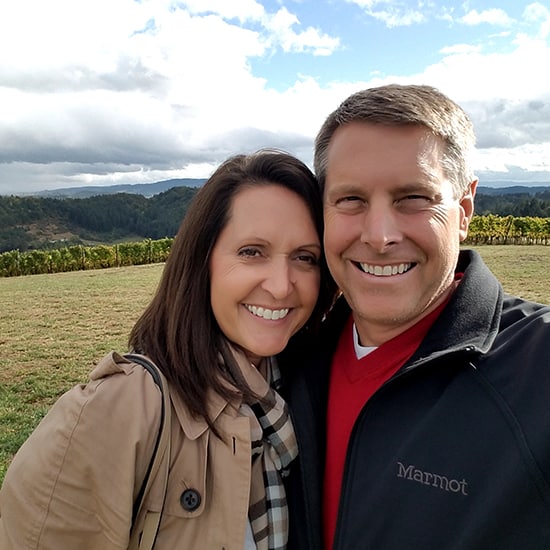 Jaxon Vineyards sits on a former pear orchard in the Fern Valley of the Rogue region in Southern Oregon. While the land has a rich history of farming, ranching, and uncompromising views, the vineyard was a labor of love on the behalf of the former owners of the vineyard.
They cleared the land, ripped and amended the soil, built the irrigation and trellis systems, and researched varietals of grapes best suited to this unique micro-climate.
The first vines were planted in 2009 and the rest is history.
Our names are Terri and Kevin Bur and, while we did not come about the owning of a vineyard and winery in the traditional way, we are pleased and honored to continue the tradition of growing exceptional grapes and producing award-winning wines. 
We both worked many years in the corporate world, but we had the opportunity to retire early and decided to combine our two passions of wine and outdoor living when we moved from Overland Park, Kansas (a suburb of Kansas City) to the West coast.  We looked at vineyard properties throughout California and Oregon, but we fell in love with the Rogue Valley, the beautiful vistas, the wines that are crafted here, and the people who make up the community.  In particular, when we pulled through the gates of Jaxon, we knew we had found our dream vineyard.
The Rogue Valley is a well-kept secret, but growing in popularity, as vintners and wine makers in the region gain notoriety and stand toe-to-toe against some of the more famous and tenured grape producing regions in the US.  We believe Jaxon has a place in this trajectory as a signature Rogue vineyard with notable similarities to several of the world's finest growing regions, including France's Rhone Valley and Spain's Rioja.  We look forward to our journey and hope you will visit us soon.